You've probably wondered this ever since you first stumbled upon these mysterious products on the shelves of some bricks and mortar retail outfit or pharmacy.
With promises of less smudge, low budge and longer lasting awesomeness with your makeup it's no wonder you've been tempted to go that one step more.

But, does it actually work and is there any science behind the hype?

The short answer is yes!
Makeup professionals the world over will tell you about the importance of using setting sprays (and primers) for longer lasting makeup.

Best of all setting sprays are super easy to apply.
If you've spent valuable time getting your foundation in place as well as any bronzer, eyeshadow, concealer and blush, you definitely want to lock it all in place with a good setting spray.
Just like all facial products, different products work best on different skin types. Alcohol based setting sprays are renown for performing well and have more staying power such as the technic Setting Spray.
But if you have dry skin, you might want to avoid setting sprays that have alcohol. NYX's Professional Matte Setting Spray is popular for not only being water based but providing a matte finish which is perfect if you have oily skin.
You may however, prefer a dewy, glowing look to your makeup so in that case you could use a product like Technic's Dewy finish water based setting spray.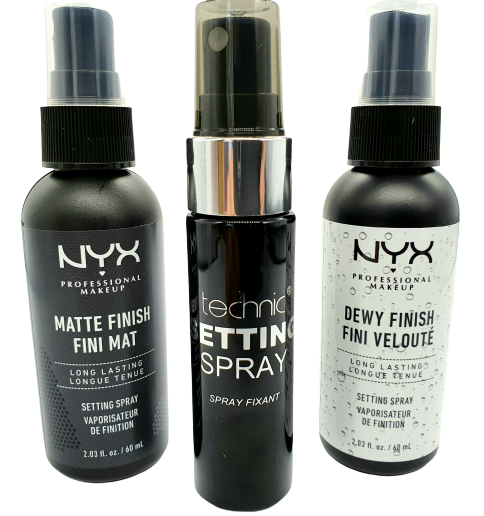 Lastly, a few tips on application. Make sure you shake your spray bottle as like any product, many ingredients can settle to the bottom during storage. So give it a few gentle shakes. Hold the bottle around 15cm from your face (half a ruler), and go for an even misting across your face a few times to get full, even coverage. Try spray in a 'X' shape, then a 'T' shape and finally an 'O' shape to get that even coverage.
Setting sprays perform best on the top of your makeup such as bronzers, eyeshadow and blushers. You should also use a good primer before applying your foundation and concealer.

Take your setting spray with you so you can reapply it during the day if required. If you touch up or reapply your makeup, add a bit more spray for your final finish.

So there you have it, setting sprays work and are highly recommended. Check out our range of setting sprays for longer lasting makeup.