It's only been a month or so since Halloween 2022, but already we're weighing up which looks will be the hottest of next year.
2022 gave us some iconic looks including Heidi Klum as a worm and Lizzo as Marge Simpson. Of course, if you aren't carrying a spare few million dollars excess, we have some great insight into what you can transform into on a budget.
Sugar Skull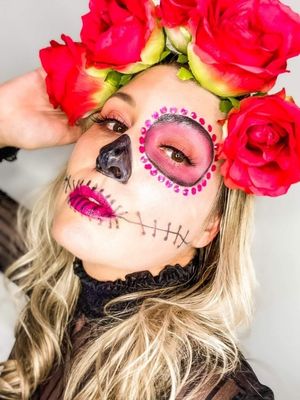 Sugar Skull look by Sherri (@thetousledbeauty)
The Sugar Skull look comes from the Mexican traditional holiday of November 1st, also known as Dia de los Muertos (Day of the Dead). The holiday is a Mexican celebration intended to honour deceased relatives.
The colourful face-painting tradition adds a festive element to the Day of the Dead and still carries political and cultural significance.
If you do want to celebrate the holiday — in the most traditional way possible — the colours you pick hold significance. The primary colours for La Catrina are red, white, and black. "Red symbolizes the love for departed family members and friends, while black and white evoke mortality and ghosts.
It is a beautiful look to celebrate a rich culture, while also incorporating Halloween and beauty.
Sticking to rich vibrant colours and traditional skull aspects of the look is a great timeless look for the years to come.
Add on a fresh flower crown and rhinestones for a stunning look.
Evil Pumpkin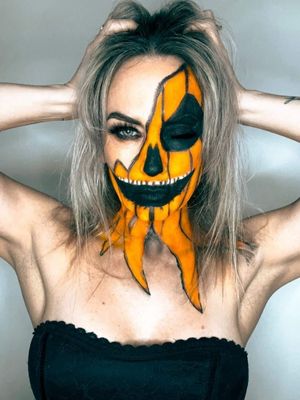 Evil Pumpkin by Leanne (@leanne___lesueur)
This look is perfect for those who want a scary face, but also wish to incorporate their own natural glam into it.
The best way to show a pumpkin while keeping your glam on is by painting half of your face like a pumpkin and leaving half of your face with your normal makeup.
This is a classic scary pumpkin makeup idea that is a must try. You can add illusions to make it look like crack or you can leave it as it is.
Another benefit of this look is that it is super easy to make it even more glam by adding glitter as a finishing touch. Also try fake blood to give it a gory look.
Shop our fantastic range of eyeshadow palettes, to get that perfect smokey eye for this look
Halloween Cat
Halloween Cat by Crystal (@colour_me_crystal)
Probably one of the simplest Halloween looks, especially if you're in a rush!
Easy to sketch out with face paint, liquid liner or even a dark brow pomade. Easy to incorporate extras into this look. Such as coloured contacts, glitter, cat ears/costume and even drawing on cheetah markings.
With so many various ways to do this look, means that you can mix in current trends and your own ideas into this. Many variations could include Cat Woman, glitter, Cheshire Cat and super glam.
To find a great eyeliner to do this look, check out our range here
If you liked any of these looks, feel free to shop our full range here